Horse riding is a sport that has been practiced throughout history. In Fuerteventura, you will enjoy riding along its many beaches…
Read more...
Fuerteventura has exceptional conditions for the practice of this sport due to the characteristics of the sea and winds. Every year at the end of July, the World-wide championship of Windsurf is celebrated in the beach of Sotavento. Having nearly 100% assured wind and the perfect conditions for windsurf has allowed for many years the celebration of this championship within the circuit of the world cup.
Read more...
Fuerteventura is the oldest island of the canary archipelago and the one that has the most coast kilometres, reaching a length of 340kms. We should emphasize the beauty of its beaches surrounded by warm white sand and bathed by the turquoise sea.
Read more...
The acrobatics of small planes compete with the parachuting or the paragliding. To cross the sky of Fuerteventura from North to South through the heights is a desire that many make it a reality beginning with some of the air modalities. This exercise has a considerable group of followers in the archipelago…
Read more...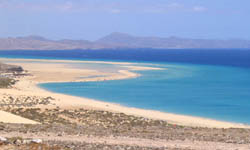 Each one of the folds in the land of Fuerteventura is a route, an invitation to enter in the entrails of the island, to the origins of the culture and idiosyncrasy of the "majoreros" (natives of Fuerteventura). It is an invitation to disappear in awesome landscapes in which the presence of the man is a mere anecdote.
Read more...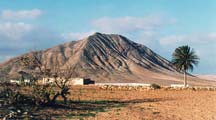 The Tindaya Mountain stands alone on the plains of the northwest of Fuerteventura. This majestic mountain is high enough (400.5 meters) so that it can collect some drops of water from the winds which blow low in the months of the summer; on its feet, three small sources spill the water stored in the fissures of rocks; they are three treasures in this thirsty island.
Read more...
This is one of the most beautiful and interesting routes of Fuerteventura. Dare to go in its plains, in its barren valleys…
Read more...