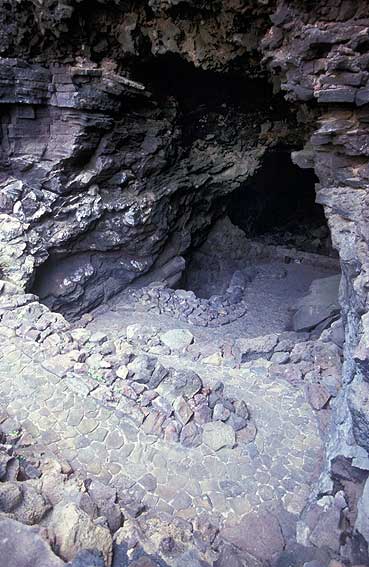 Cueva de los Verdes is formed from parts of the volcanic soils and extends from 1 km to 6 kilometres of old lava streams. The streams are the second longest in the world. In the 18th centure, these caves served as a refuge for the natives, the Majoreros, when they suffered attacks from slavers or pirates.
In 1964, Jesus Soto transformed almost two kilometres of caves, respecting to the utmost its structure and limiting the changes to the installation of a magnificent system of lighting that enhances these natural phenomena, highlighting in all its splendour the hues of the cave walls.
Gentle ambient music accompanies this spectacle, converting this tourist centre into one of the most beautiful. Inside the cave an auditorium has been installed, the second venue of the Visual Music Festival of Lanzarote. The concert hall is located near the entrance and the exit of the cave.
The cave has now become unstable so performances in the hall are not temporarily permitted in case the cave collapses; the ceiling is currently being reinforced. The seats in the concert hall has about 15 to 20 rows and has 13 seats in two parts totalling 26. The concert can hold up to about 500 people. Parts of the cave are deep. Parts of the caves are covered with seawater.
---
Opening times: from 10:00 to 19:00h, last entrance 17:00h.
Telephone: 928.848.484
Price: 8,00€